Shambhala Music Festival made the news in more ways than one during the weekend their 20th annual event. Shambhala is on a private property and has a long history success. The growth Shambhala has come from positive word mouth and this year they even hosted what was the most advanced drug testing in the world for harm prevention. These reasons and more are why Shambhala should be and initially were in the news. Unfortunately, that was not the case for long.



The Wildfires Don't Stop the Party!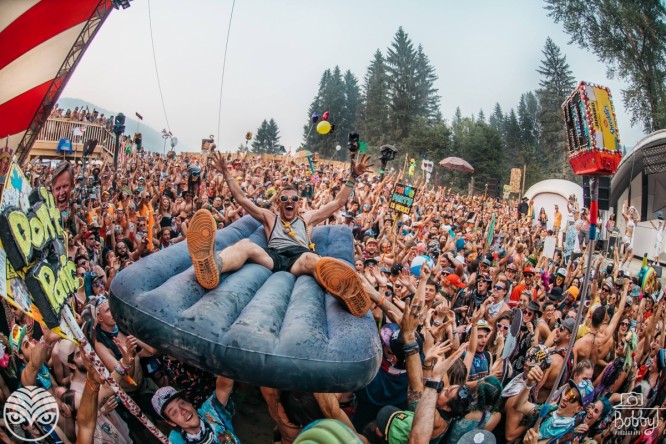 The music festival took place over August 11-14, 2017 acting as a landmark moment for the brand, the community and all the staff involved. We've heard the stories, we know it's Skrillex's favorite festival and we know that it sold out in less than 24 hours a year in advance without a line up announcement. We had to make it to the 20th year to see what made this festival so special. What we witnessed was an amazing event that created a safe space for festival goers, but was surrounded by controversy and unwarranted backlash due to a nearby fire. The event itself is a gathering for a like minded community taking place in British Columbia, Canada. There's parts in BC that are very dry and forest fires have become very common during hot summers. This year was particularly bad and unfortunately a man made fire started a short 25 kms away from the location Shambhala. The event was put on pre-evacuation as a safety measure and to prepare for the worst while hoping for the best; a good mindset to have. This, unfortunately, drew mass media attention for all the wrong reasons. The words pre-evacuation sound scary, but it really just means be prepared to leave is safety becomes a concern. Though most festival goers didn't notice, the world was watching and people were concerned.

I want to avoid talking about it, especially because if you were at the event you would know the concern was low and everyone was well prepared. I do have to touch on it though because after coming home from the festival I saw all the comments and concern over the mainstream media. It also added a different dynamic than most years I'm sure, but it was all new to us and the weekend went great! I personally didn't get comfortable until after I arrived and adjusted to the environment. 



Arrival

We arrived at the festival Thursday to a smoky smell in the air and some smoke in the skies. I, like many attendees, was concerned about safety, air quality and what this meant for the weekend events. Arriving didn't help calm my nerves much with the smell, but the staff assured everyone evacuation procedures have been put in place to get everyone out the festival safely. The Friday morning the festival was much clearer, which was great since most guests arrived that day. Though the festival was dusty due to the dry heat, the smell and smoke became minimal. This more than anything made me feel better. The air quality wasn't as bad, the skies were clearer than before and there was word rain coming to save the weekend.
Friday night was a success. I think one the best points made by the festival about the matter was how they had a staff 2500, all who all have constant communication with each other. That's much more control and staff than any normal town would have, so evacuation would be a smooth operation. They also had fire fighters on site as well as a helicopter keeping eyes on things. All these things calmed my nerves personally despite my initial concerns. I would like to share the start our experience at Shambhala 20 starting with the people that make this festival great.


Shambhala Community 


We stopped by at a few camps to talk to attendees about the landmark moment. When asked what made Shambhala so special, it was almost always relayed as the community. People said the vibes are unlike any other and it's hard not to agree and we visited numerous strangers at all these camps. Everyone was excited to talk about Shambhaha with us and celebrate the 20th year. We talked to veteran attendees who have been going for over 11 years and they said though things have changed over the years, the passion the attendee's never fails to deliver. We did some pre-coverage Shambhala and to see how our expectations met the reality was an exciting adventure. I want to touch up on some the things we experienced that makes this festival like none other.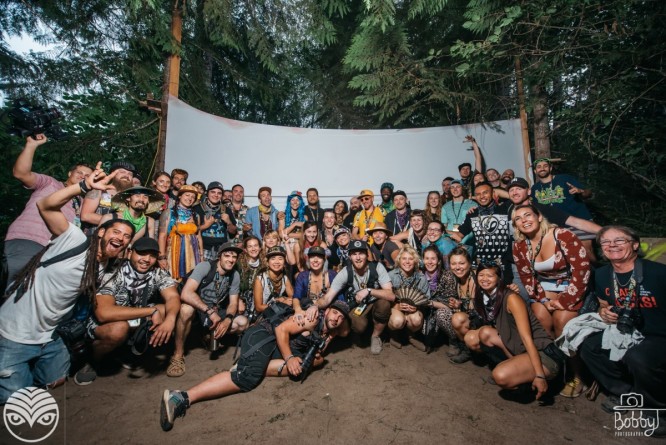 Shambhala has attendee hosted events including a hulk t-shirt ripping contest, a nude flash mob and many more. A lot people in tents got in the action, we saw a campsite giving away earplugs for a hug as well as people willing to trade homemade trinkets for a joke. It can get as weird and as fun as you can imagine. There was numerous campsites labelled as well. There was Sunderland, which is a regular attendee that features a bus with a DJ on top. There was camp electric Mexico where we stayed beside and some interesting ones by the name stranger danger and camp clean beats Camp clean beats was for people avoiding any drug or alcohol for the weekend as was refreshing to see for sure. Camp stranger danger was made for people coming to the festival alone so they can all hang out and make new friends, another great idea. A lot people take initiates into their own hands and end up making Shambhala a better place for all. People are encouraged to take the fun into their own hands like good old Jacques down below!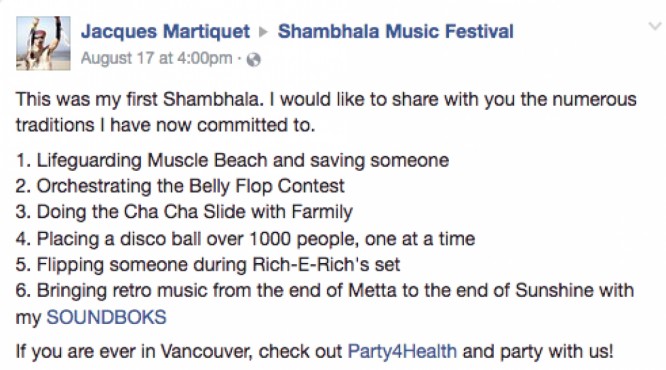 Party Hard, But Party Safe!


One the most impressive things at the festival was a booth called Ankors, where they used some the most advanced drug testing technology to ensure attendee's weren't taking unsuspecting substances. It's nice when a festival recognizes people will do drugs if they want too, so instead just banning them (which they did), they also provided drug testing for free for harm prevention. There were no drugs allowed at Shambhala, just like everywhere, but how many times is that actually the case? It's nice to face reality as it is instead blindly creating rules you know not everyones going to follow. BC is in the middle an opioid crises and hundreds have died from the powerful drug Fentanayl. Shambhalal used the most advanced testing possible by using Spectrometer technology to help spot unwanted Fentanyl usage. This advanced type testing can find traces opioid such as fentanyl and tell you whether your substance is safe or not. ANKORS have been attending and testing substances at Shambhala for over a decade. They have saved numerous lives and probably stopped many people from having a shitty night. Drugs like cocaine, MDMA, ecstasy and others can be cut with dangerous opioids such as fentanyl to make it cheaper for dealers as they sell to unsuspecting users. Though the booth fered 4 ways to test substances, the showstopper is undoubtedly the spectrometer which can find even the smallest grains contamination. They actually had to fundraise just to get that equipment to the festival, Many festivals have their insurance rejected for having drug testing, which is an issue within itself, so attende's are warned at the booth a disclaimer than any drug use is still on them. They had over 12,000 visits over the weekend. Just imagine how many bad times were avoided because Ankors! If anyone did happen to have a bad time they had a safe zone where people could calm down. It's a cozy place where they provide blankets, crayons and someone to talk too if needed. The preparation and thought for harm reduction was impressive on Shambhala's part; no doubt.




The Curated Stages Stole the Show


Some festivals have one stage, some have two, but Shambhala doesn't mess around and had 7 diverse stages for fans to explore. The stages have their own line ups and vibes. The great thing about them all is how dramatically they change from night and day. It's like a brand new festival at night. The stages had dancers and entertainers. The Village stage was one my favorites. It features elevated viewing areas, a waterfall and 

beautiful decoration.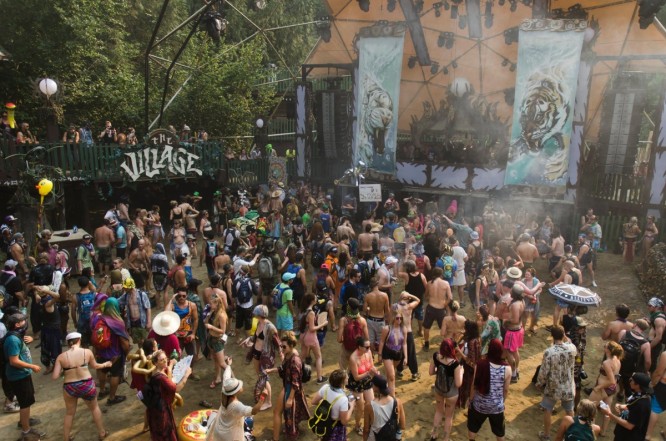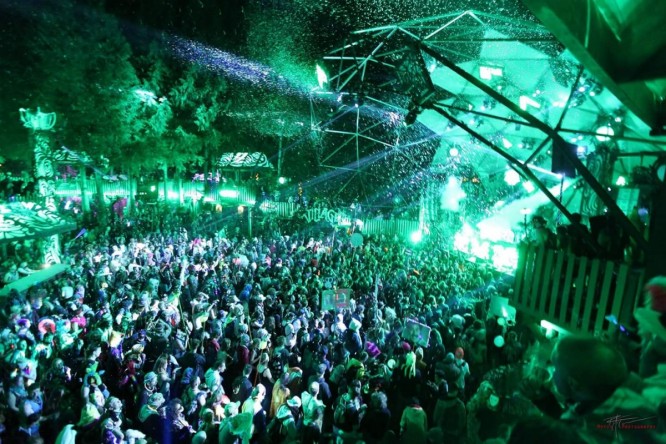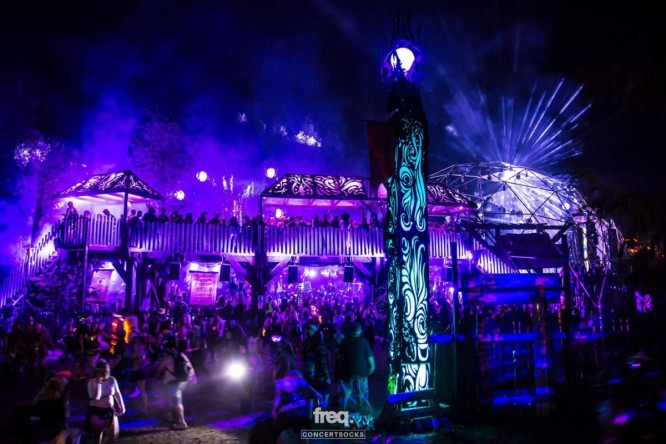 I also really enjoyed the Pagoda stage and Fractal Forest. There's actually no video or photography allowed in the Fractal forest, but the homemade design and advanced light show make quite the contrast. Very impressive audio visuals all night that its hard to put into words! Pagoda stage went through some massive renovations this year more than most. Check out the photo's below!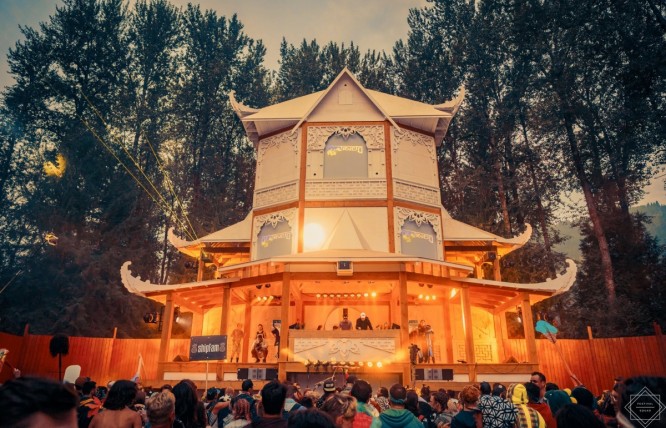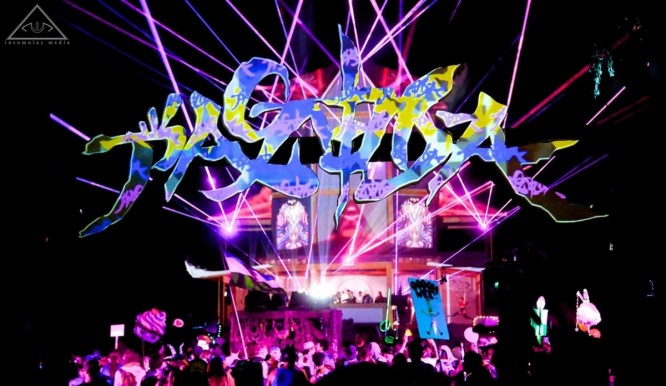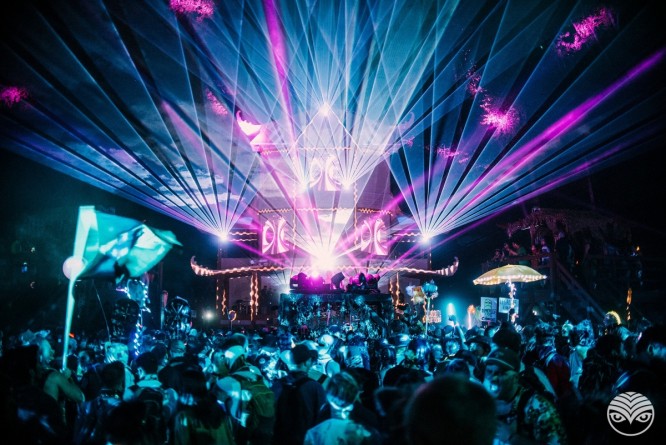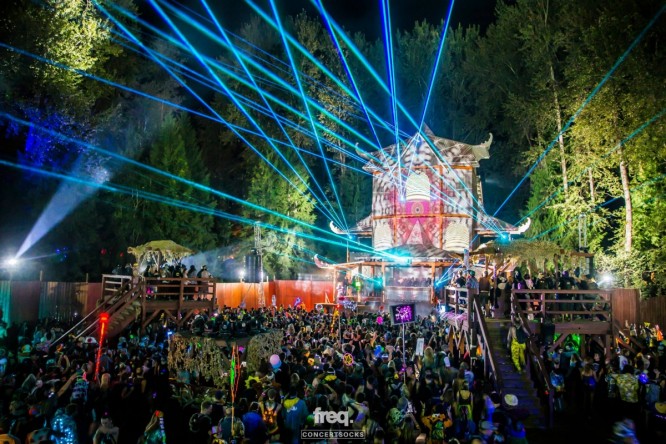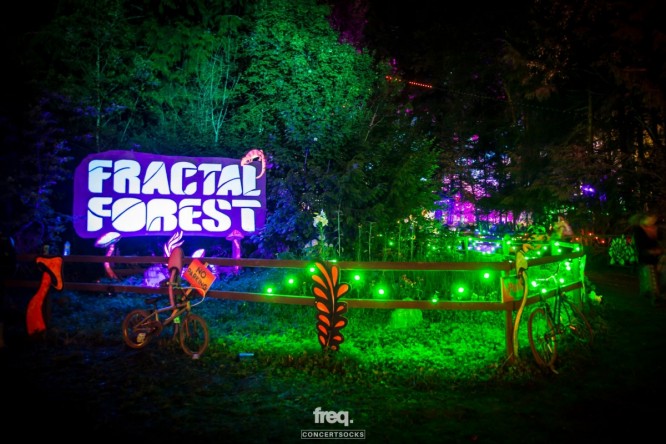 Then there was the AMP, Grove, living room and more area's to explore. The living room was by the river and featured a sand dancefloor. The standard 2 stages at every festival will never be the same after coming to here. The whole festival is filled with art installations and random shenanigans. It's like stumbling upon something new everyday.From doing yoga to finding art.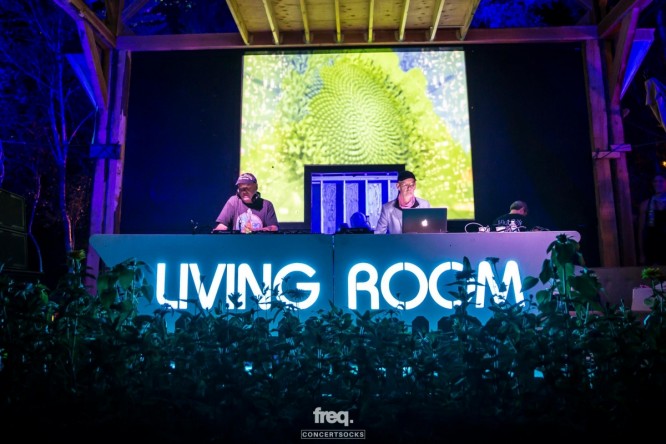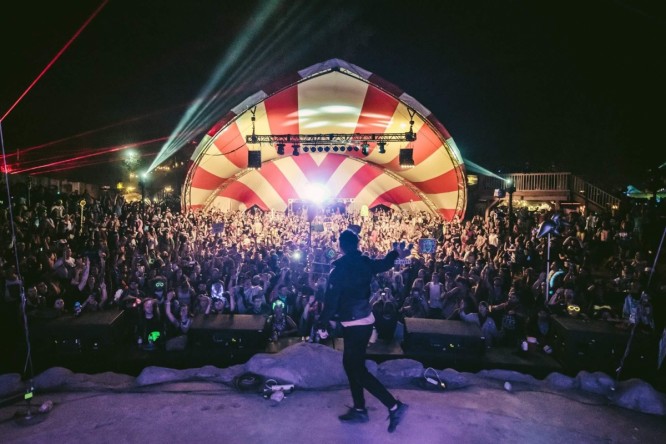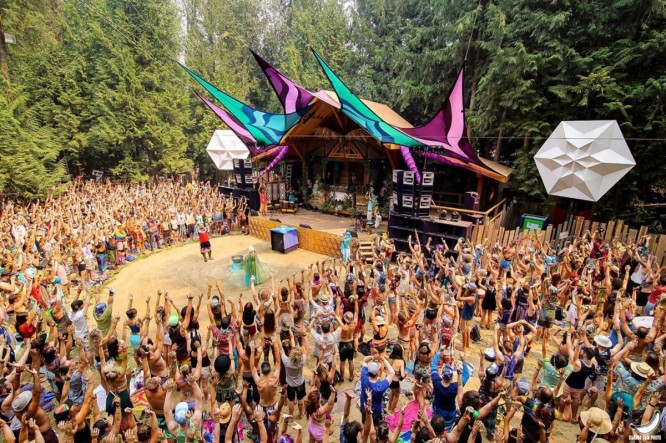 Saturday Becomes the Final Act
With the fire looming and unfortunately growing, Shambhala announced that Saturday would be the last night events. The day came with set changes and even cancellations. The artists that did show up were ready to give the people Shambhala an amazing final night. Everyone at the camps around me seemed to agreed, party as hard as you can and make up for the cancelled day. Totems were quickly updated.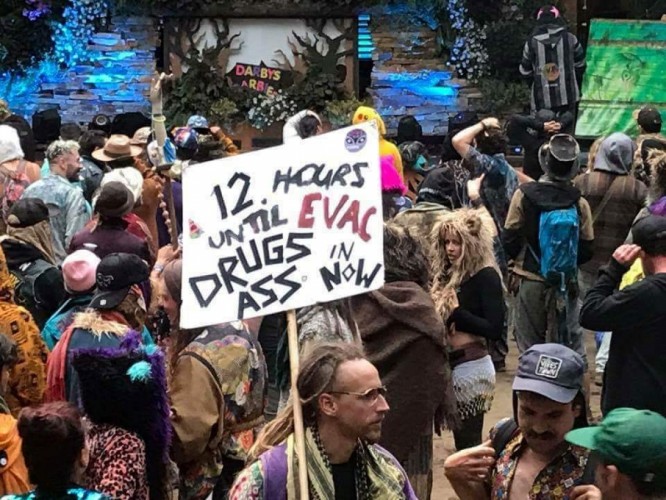 This was yet another moment where the dynamic changed. It made for an interesting day as new friends said their quick goodbyes. Friday went well, starting from the clear morning to the all night partying. It was unfortunate to wake up to the news an early closure. A lot people took down their campsites and packed up to get a head start on the departure tomorrow. There was still hope rain, but with an ficial announcement hope seemed bleak. We made use our last day to expeirence what we could Shambhala and appreciated the time we did have.

Attendance Cap Free Up the Dance Floor
I don't know if it was the attendance cap, the fear the fire closing in or the people who left early, but boy was there space to dance! The attendance gap also ensures only dedicated people get into the festival. When most festivals are looking to have over 80,000 - 100,000+ fans Shambhala is more in the range 15,000 - 18,000. This makes it feel almost exclusive. It's something we can appreciate about the festival.

FREEDOM!!
You can bring totems, dress up or even be naked at Shambhala. Freedom is key and there's plenty it at Shambhala. People lounge around the river and as mentioned before take the fun into their own hands. There's also plenty art installations to stumble upon! They even showed the movie Spirited away hidden beside one the stages! Take a look at some shots below our favorite costumes, art, totems and people! It gets weird here in a beautiful way.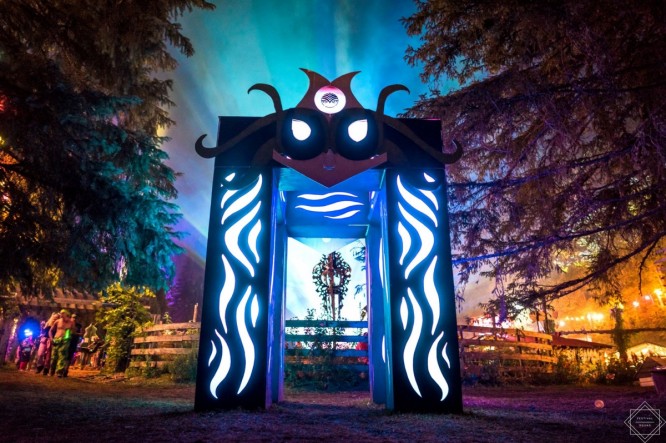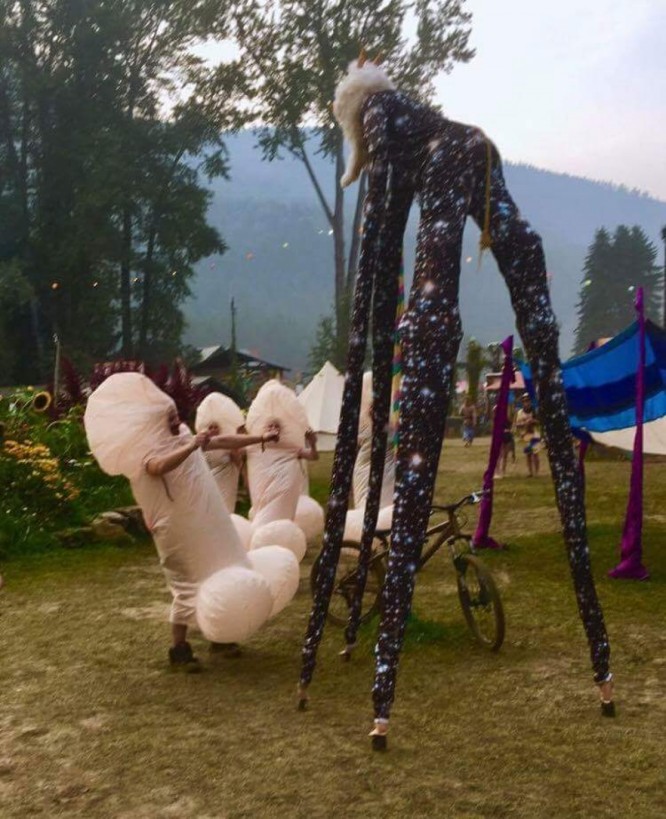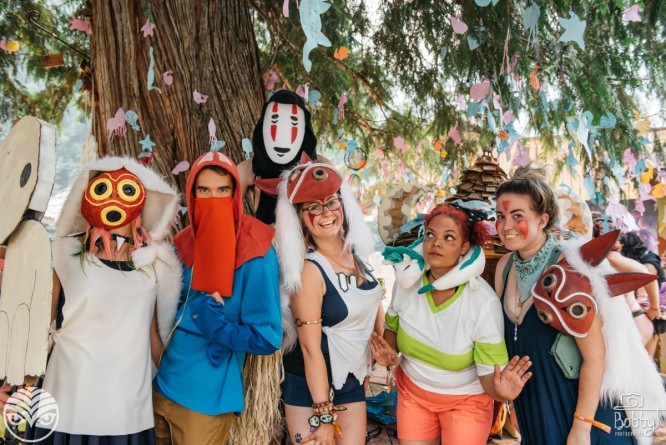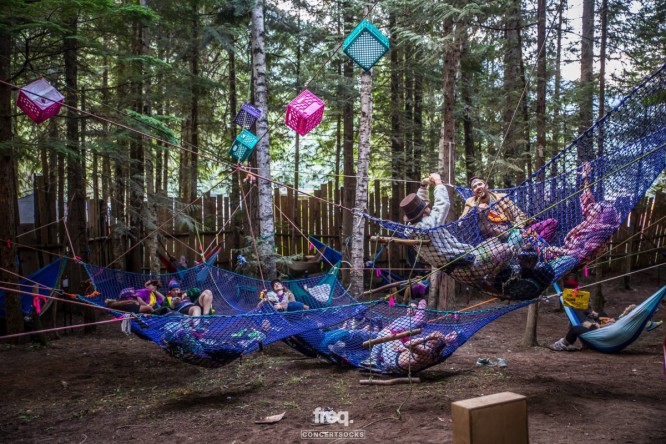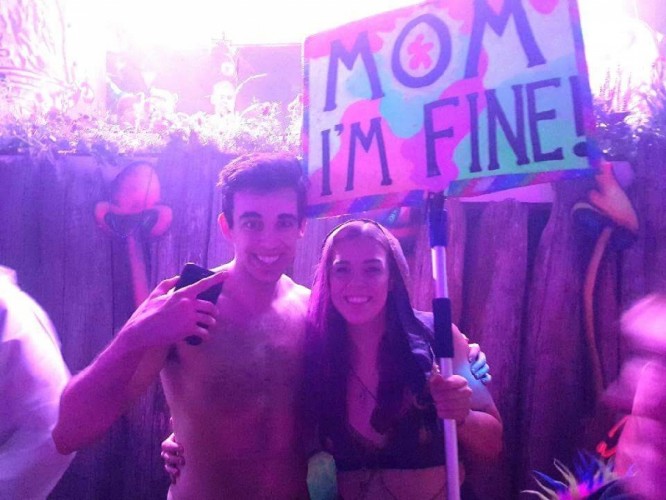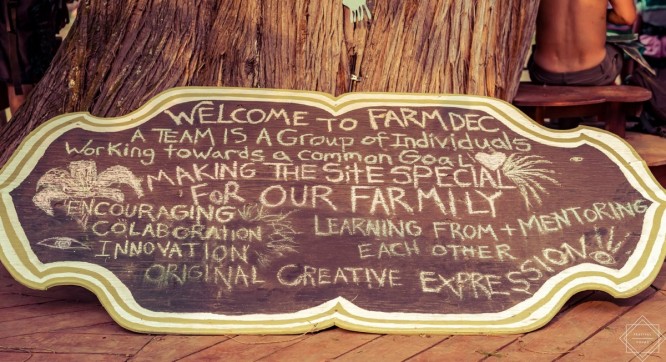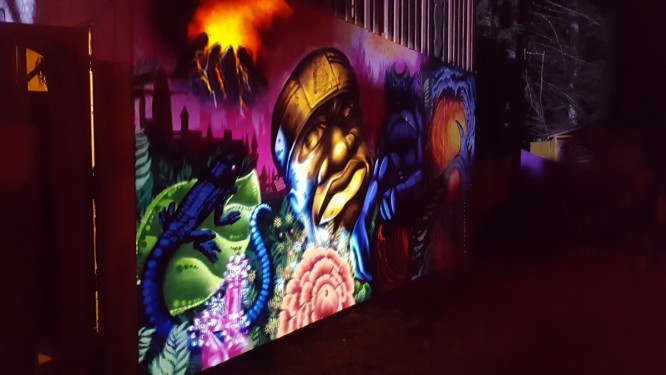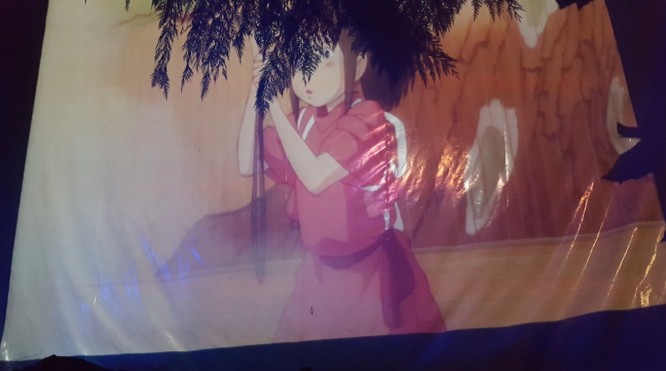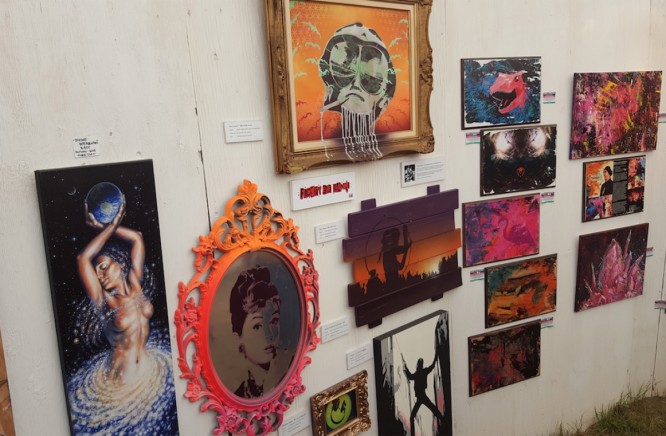 The Artists & Staff Loved the Festival Like the Fans!
Excision holds a residence at Shambhala and played his 10th set there this year along with many other reocurring artists like Datsik, Terravita, Moontricks etc. Though some acts cancelled, its understandable with an evacuation looming. Everyone from the artists, staff and crowd was down to earth. People told us everyone was kind and that is what we experienced. Everyone who spoke on the mic gave thanks for the opportunity. Many volunteers were there just so they could attend the festival. It was an unfortunate circumstance with the early closure, but everyone made the most it and danced the night away. I was unfamiliar with a lot the line up but that only opened me up to a bunch new and interesting acts. Moontricks, Z-Trip, Phrase, The Orb and so much more was a treat to discover.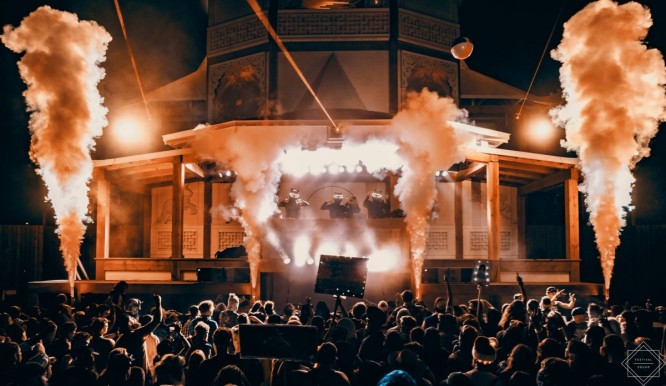 A Shambhala Miracle: The Rain Dance Worked!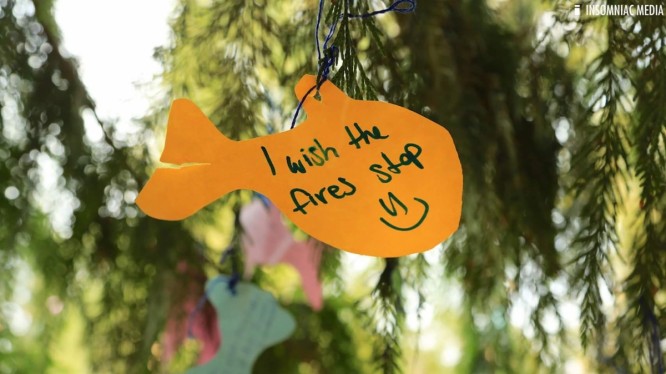 A Shambhala miracle happened Sunday morning as campers woke up to morning rain. The festival was back on. Shambhala decided to move forward with the final day because Salmo River was creating a natural barrier from the fire and the rain helped subdue the fire. It was surreal. The emotions over the weekend were all over the place, but looking back it was all fun. Everyone enjoyed the last night so much that it was a nice surprise for all the hungover people that they have a day to chill on the grounds.
The Final Act (Again)

After a weekend with a whirlwind emotions it was a relaxing final day. Our experience at Shambhala 20 was more unique than other years and we even witnessed a miracle thanks to everyones prayers and rain dance. The final day was left for proper goodbyes and music. Anyone who left was allowed back in without a re-entry fee and the event went on as planned. I want to thank all the staff, attendee's, artists and neighbors we met over the weekend. What makes Shambhala different than most festivals is it's uniqueness and commitment to their loyal fans. A festival doesn't last 20 years without some serious effort and we appreciate i. Tickets actually go on sale today, so head over to http://shambhalamusicfestival.com/ while supplies last! I wanna leave you with how well the community cleans up with photo's before and after. You'' also see how the weekend started a bit smokey but ended with clear skies. There's the ficial 2017 aftermovie that came out today which you can check out below to tide you over for the next year!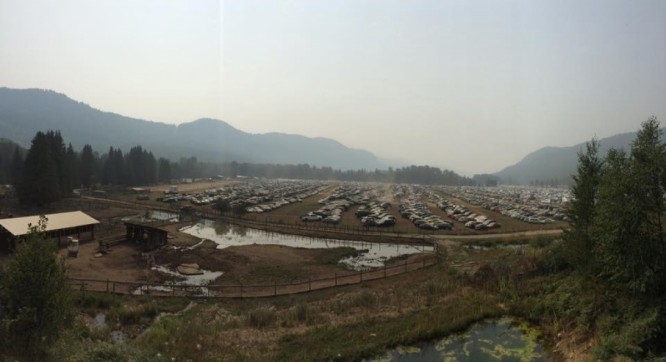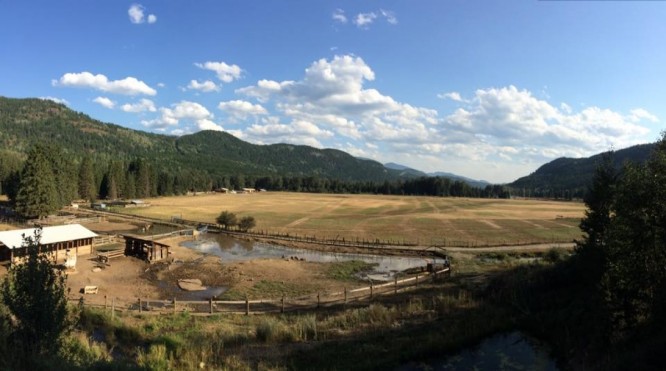 Photo Credit Goes to Shambhala Staff, Alisha Kastrukf, BobbyT Photography, FREQ. Magazine, Festival Squad, Stefan Bygden, Harvit Gill and the attendees Shambhala.